I have not posted for a couple of months because, I say with gratitude, I have a full calendar of speaking engagements and a few other opportunities floated to the top of my priority list.
I am relaunching my corporate website to match Google's mobile responsive web requirement. The new JADci website will be launched by the end of this month. It is still  in development and I will share an announcement of the big launch.
This month I am pleased to share a incredible invention by a young lady who dropped out of college at age 19 to follow her dreams.
She invented the one drop blood test.
Now t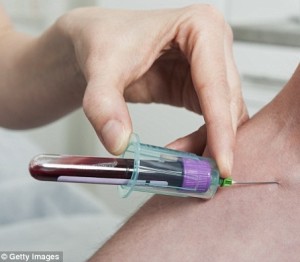 his is very meaningful to me because my husband Bill recently went to the emergency room and after waiting to be seen for 5 hours (yes, 5 hours)  they requested several blood tests.
The nurse filled at least 5 tubes with his blood. Each tube was color coded with different rubber toppers to indicate their destination..
Here's the thing, a lot of Bill's blood was on the floor and instead of wiping it up she just kept on taking his blood. Finally I asked her "are you going to wipe that up? You could slip and fall." She decided to do it later.
A few days after we returned home, Bill's arm was black and blue and it stayed that way for more than a week. It is now healed but this experience underscores one of the benefits of the new invention.
College Drop Out
Like many before her, Elizabeth Holmes dropped out of Stanford at 19 years of age because she had a vision and a dream.  So she founded a company called *Theranos* with her tuition money.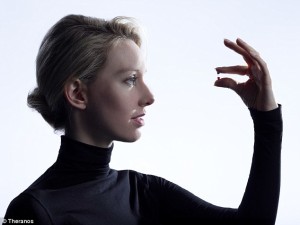 She's afraid of needles and I don't blame her. So am I. she dropped out of college at 19 years of age because she had a vision and a dream
According to Wired magazine, "Last fall it finally introduced its radical blood-testing service in a Walgreens pharmacy near company headquarters in Palo Alto, California. (The plan is to roll out testing centers nationwide.) Instead of vials of blood—one for every test needed—Theranos requires only a pinprick and a drop of blood."
With that on drop of blood they can perform hundreds of tests, from standard cholesterol checks to sophisticated genetic analyses.
The results are faster, more accurate, and far cheaper than conventional methods.
Working mostly in secret for the last 11 years, Elizabeth Holmes' company, Theranos, is now valued at $9 billion and, according to Holmes, is changing people's lives.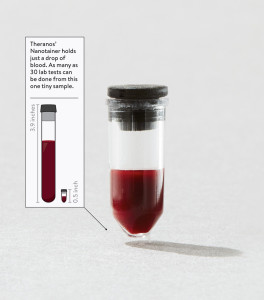 Patients say it saves money. She told USA Today of a diabetic woman who wrote to her that had three fingers picks for a wide-range of blood tests. She paid $34.
The woman said she had undergone the same tests earlier this year and that it cost her insurance $876.
Walgreens is now using it. with their customers.
Theranos' technology requires only a finger prick of blood to be drawn from a patient in order to get fast, effective results. One drop can run 30 lab tests, the company claims.
Partnered with Walgreens, the flagship Theranos Wellness Center is based in Palo Alto, California.
Patients are able to walk into the stores, have their finger pricked, and get blood results within hours. The cost, depending on the extent of the tests, averages around $30.
Holmes told Wired they can get test results in less than four hours

I wish we had access to this One Drop Test when Bill needed to give blood in the emergency room recently. I feel it would have made life easier, and without black and blue marks with pain.
Incidentally, I watched them throw out most of the vials of blood they took from Bill. After the shift change, the new nurse said "they don't need all of these" and threw it in the trash!
Your comments as always are welcome.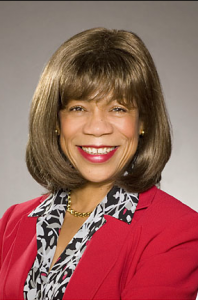 Known as a highly effective teacher, public speaker, and communicator, Yvonne F. Brown has taught seminars on team building, leadership, communication, & management in the United States, the United Kingdom, and Canada.
Yvonne is proficient in a variety of management topics, including interpersonal, organizational, and intercultural communications, conflict management skills, and helps employees with their career growth.
If you would like to connect with Yvonne you can follow her on Facebook, see her in action on YouTube, network with her on LinkedIn or via her corporate fan page JAD Communications
Listen to her radio show at Blog Talk Radio