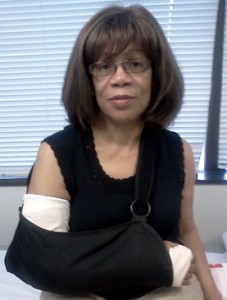 I have not created a blog post since May and I want to share with all of you, my readers, that this is because I had an accident.
I fell while walking my dog and broke my wrist. The bone was completely broken and I have had my hand in a cast since early June.
I'm on my second cast and in two weeks will be in my third cast. I have never broken a bone before and I must say it is truly an incredibly painful experience. Those of you who have broken a bone can relate I'm sure that it is not for the faint of heart. The pain is excruciating!
My first cast came all the way up to my armpit, was made with fiberglass, and weighed a ton. I had to use a sling to hold it up.
As a professional speaker and trainer I still had engagements in the pipeline that I had to keep. So after a week I went back to work with the cast on you can see the picture on the right.
As I've traveled the country to provide training to corporate employees, I learned that there are many wonderful people out there. They came to my aid in every way possible and from them I learned many valuable lessons.
I am writing this post using Dragon Naturally Speaking software.
I broke my right hand, it's my dominant hand, and typing with only my left hand is tiring and difficult. Overuse of my left hand results in a stiff hand and constant tingling in my fingers.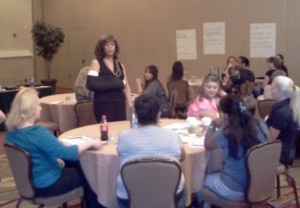 Here are three observations since the accident:
1. It is important to fulfill your obligations to the best of your ability. This means doing whatever it takes to get the job done.
2. Take responsibility to deliver excellence, professionalism, dedication, and use creativity to provide value add to your clients regardless of your circumstances.
3. Once you are committed, the universe provides all kinds of help for you to succeed. Angels appeared from everywhere to help me and make things run smoothly.
If you read the blog post this far, I thank you. My third cast will be added on August first. And then after a few more weeks, perhaps by mid August, I will have use of my right hand again. Then I will return to my regular monthly posting on Generational Differences in the Age of Social Media.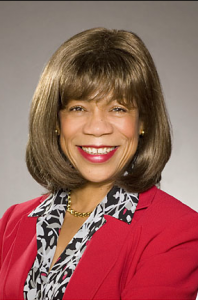 Known as a highly effective teacher, public speaker, and communicator, Yvonne F. Brown has taught seminars on team building, leadership, communication, & management in the United States, the United Kingdom, and Canada.
Yvonne is proficient in a variety of management topics, including interpersonal, organizational, and intercultural communications, conflict management skills, and helps employees with their career growth.
If you would like to connect with Yvonne you can follow her on Facebook, see her in action on YouTube, network with her on LinkedIn or via her corporate fan page JAD Communications
Listen to her radio show at Blog Talk Radio