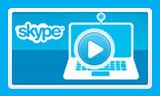 If you are uninitiated and uncomfortable with Skype or being on video, you might miss opportunities.
Skype is being used more and more for job interviews.
It is increasingly a common means of achieving a live, face to face conversation with job candidates.
According to a recent article in the Chicago Tribune, Skype is very popular with academia, so says Professor Stephen Winzenburg, a communications professor at Grand View University in Des Moines.   Chicago Tribune writer Nara Schoenberg asked Winzenburg for some pointers and here they are:
Practice in advance with your webcam – Good photographs require good angles and the same is true of video.  Experiment in advance to find out what works best for you.
Do a trial run – have a friend provide some honest feedback about how you look on your webcam.  That requires you download and set up Skype in advance.  Your friendly critic will have to do that as well.
Dress professionally – Determine the colors that presents you in the best light.  Some patterns do not translate well on video.  White reflects light and could give your face a washed out look.
Remove clutter and clean up – Ensure the area around you is clear of children or dog toys and bookshelves are straightened.
Use eye contact – In one on one interviews you have the opportunity to look the interviewer in the eye.  The same is a requirement for the Skype interview.  Look directly into the webcam when giving your answers to the interviewer.
Remain calm – Try not to fiddle, wiggle, or fuss even if the dog starts barking.  If distractions occur, ignore them and stay focused on the interviewer.
The Skype interview is another example of the generational difference in today's workplace.  It saves money for the interviewing company as no travel costs are involved.
They also have an opportunity to "see you" at the start of the interviewing process.  Practice as often as possible in advance to ensure that you move on to the next stage of the application process.
As always your comments are welcome.  Have you done a Skype interview?  I'd love to hear how it went.
miss job opportunities.